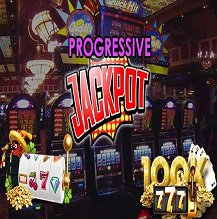 Every gambler dreams of winning big, and hitting the jackpot can be a dream come true. But not all are created equal. If your eye is drawn to the biggest prizes then you might find our guide to some of the best jackpots interesting.
Progressive Jackpots
Many jackpots are for a certain multiple of the bet made, but some work differently. Progressive jackpots work like a lottery. If no-one wins it, the maximum payout increases until someone does. When a long enough interval passes, the jackpot can reach very high sums (up to multi-million dollar levels). This does make the big win a bit more variable than standard jackpots, but also means the payout can be very high.
243 Ways to Win
One of the main ways that slots games vary is the number of reels and paylines they have. An interesting development is the 243 ways to win approach. Under this system, symbols just have to be in view and adjacent to one another to yield a win. The high number of potential winning results is the reason behind the name. Of course, multiple wins on a single spin can happen. Because of this, the maximum potential jackpot is nice and high.
Some Slots with Large Jackpots
Perhaps the best known progressive slots game is Mega Moolah, from Microgaming. In the last decade or so the slot game has paid out a number of multi-million dollar jackpots. There are 5 reels and 25 paylines. If you're hunting for the big win, they don't come much bigger.
Electric Sam, by Elk Studios, has a fruit slot theme, a troll queen, and 243 ways to win. Its highest payout is 200,000 coins, and there are sticky wilds, multipliers, and imploding symbols to help mix things up.
Thunderstruck II is also a 243 ways to win slots game. Featuring 5 reels, free spins, scatter, and wilds, it's another very popular game from Microgaming. The highest potential payout is 243,000 times the player's bet, making it another big hitter at the top end.
Pink Panther slots, created by Playtech, is a progressive jackpot game. Featuring 5 reels and 40 paylines, the progressive nature of the game offers the potential for a substantial payout.
The Flipside
There is one big downside with focusing on a jackpot: you're unlikely to win it. The bigger the sum, the less likely you are to end up with it. Small prizes are less eye-catching but come with one corresponding advantage: you're relatively more likely to win.
There's a lot of variety with jackpots, and not just the sum involved. Different ways to win can offer entertaining and innovative games so be sure to keep your eyes peeled for the best games.